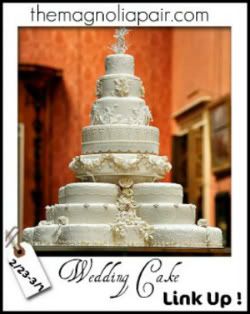 Our wedding cakes were not the traditional large multi-tiered confections that you see at a lot of weddings. Instead, we ordered ten cakes from a bakery in Decatur called
Southern Sweets
. We got all different flavors to make sure that everyone would have something they liked. Ladies, this was probably the least stressful part of the entire wedding planning process. Over the summer I called to ask how much time they would need to prepare the ten cakes. They said I could just call a week to a week and a half before the wedding and they would have them ready.
I loved doing our cakes this way because it meant that they were baked the day before the wedding, instead of days in advance like a lot of large wedding cakes. We also got a variety of flavors.
We had:
1 Carrot Cake
1 German Chocolate Cake
2 Vanilla Bean Layer Cakes
2 Old Fashion Chocolate Cakes
1 Orange Blossom Pound Cake
1 Coconut Layer Cake
1 Red Velvet Layer Cake
1 Tiramisu Layer Cake
I had a lot of fun with cake toppers. We had little a Lego bride and groom. I also made various sayings out of scrabble letters on lollipop sticks. I made "Je T'Aime, Ich Liebe Dich, MP (hearts) LP, Just Married, and Love. The large blue police box is the TARDIS from Doctor Who, one of our favorite tv shows.
I got so many compliments on our cakes. I am so glad we chose to go this route. It was stress free and very affordable. Anyone in in the Atlanta area should definitely consider Southern Sweets.
All photos taken by I Love You Much Photography.