I just got back from a quick trip to dog park with my adorable puppy. Now I am happily cuddled up on the couch. I am going to be overly greedy and link-up with two different bloggers today; Friday letters and Fill in the Blank Friday.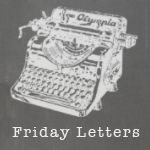 Dear Weather, Please stay exactly like this. I am loving the mid-50's days with cooler evenings and mornings. It has been crisp and just gorgeous. Hopefully the North Country will stay like this for another month.
Dear Pier One, Why do your Halloween decorations have to be so cute? They have these adorable owls that I want desperately. Sadly, they are a little out of my decorating budget. I hope there are some left by the time their fall clearance rolls around.


Dear Box Jumps, My hip flexers and calves hate you. Really really hate you.
Dear Black Wool Pants, Thank you for fitting again. I know we haven't seen much of each other since high school, but that is all about to change.
1. Something I am very proud of is: This is a popular question recently. I am proud of my marriage and the fact that I finished my education before I got married.
2. My favorite thing about myself is: my ability to talk to anyone.
3.
My favorite color for fall is:
The color red of the leaves as they change.
4. Something I've been learning lately is: Good things come to those who work their asses off for them.
5. A book I am reading now/have read recently is: Rules of Civility by Amor Towles.
6.
My favorite Pandora Station is:
Oh this is a tie between my Adele station and my Lord of the Rings station. One or the other is usually blasting while I clean or blog.
7.
This weekend I will
:
Celebrate my first wedding anniversary a few days early, spend time with Lane before he leaves and relax.
Happy Weekend to All!